The importance of preventive oral health care is often underestimated. There are many basic habits that can be implemented daily to reduce the risk of decay and other serious dental issues. During COVID-19, when there are more challenges to being seen by healthcare specialists, preventive care is critical.
Consistent dental exams are necessary during childhood; this is the time when issues are most treatable, and hygiene education can be implemented for long-term oral and overall health.
According to the American Dental Association, a child's first dental exam should be scheduled no later than the first birthday or after the first tooth erupts. The American Academy of Pediatric Dentistry also recommends regular visits every six months after this.
The American Academy of Pediatrics has also developed a schedule of well-child visits to reinforce the overall well-being of developing children. This entails a recommended visit within the first week of birth, and then once a month for the first two months. After that, the child should be seen once every two months until the child is 18 months old. It is recommended the child be seen twice a year at age two, and then once a year until they are 21 years old.
Oral health education can have a significant impact on overall well-being. A common source of dental issues includes improper drinking and eating habits. If education is implemented at a young age to combat some of these dangerous patterns, future health concerns such as diabetes and obesity can be avoided. Other health risks associated with smoking and chewing tobacco can also be discussed during counseling in dental exams as children get older.
The pandemic has posed challenges to many, if not all, healthcare fields. COVID-19 has made it more difficult for patients to receive oral health care in a dentist's office. Early guidelines from the World Health Organization advised people to delay their visits for non-essential oral health care like preventive care. This was a safety concern because dentists and dental hygienists work in close contact with their patients, and have a higher chance of spreading and contracting the virus. However, this has negative implications for peoples' oral health.
The American Dental Association has emphasized the need for consistent dental care with safety precautions in place. During this pandemic, that means more PPE and sanitization. It is recommended that certain instruments which spray large amounts of water not be used. Dental hygienists and dentists are not able to see as many patients, due to increased time requirements between patients in accordance with surface sanitization protocols. Additionally, -travel and symptom questionnaires patients complete can also result in appointment postponements.
So, is it safe to go to the dentist now?
Many dental offices are open for routine care again, with significant safety measures in place. If you have any concerns about safety before your visit, give your dentist's office a call and ask them a few questions, such as:
What are your current COVID-19 protocols? doing to make sure that patients and providers are not spreading COVID-19?
What kind of screening measures can I expect when I come in for my visit?
How are you dealing with aerosolizing procedures? (This refers to the tools mentioned above that spray large amounts of water, a potential risk of "aerosolizing" the virus if it were present.)
What about mask breath? Can I do anything at home?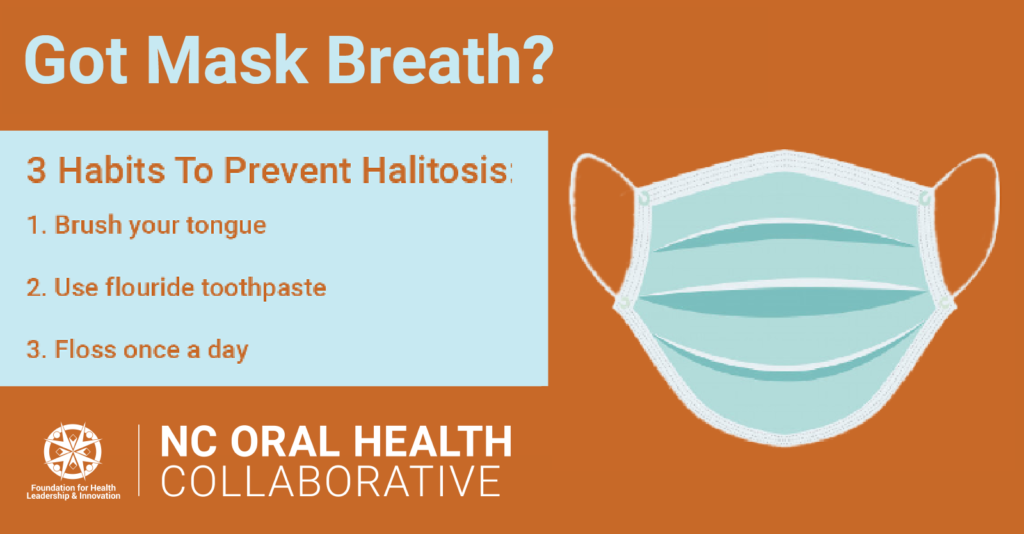 Due to prolonged periods of mask usage during the pandemic, many are becoming increasingly concerned about their own oral health.
Halitosis, a technical term for bad breath, is a preventable condition. One way to reduce "mask breath" is to brush your teeth at least twice a day, paying close attention to the tongue, which can hold large amounts of bacteria. Using fluoride toothpaste, fluoride mouthwash, and consistent flossing are also ways to prevent halitosis.
Do you have kids at home? Download this helpful guide and hang it in their bathroom to help keep their teeth healthy and happy!
NCOHC is a program of the Foundation for Health Leadership & Innovation. For more information and to stay up to date, subscribe to the NCOHC newsletter. If you are interested in becoming an NCOHC member, you can also fill out our membership form. It's free!