When creating equitable health care systems, especially at a statewide level, policy plays an important role in driving sustainable, system-wide change. Before policy can be implemented, however, advocates must start by changing peoples' mindsets.
We recently sat down (virtually) with Dr. Sylvia A. Frazier-Bowers to discuss her role as Assistant Dean of Inclusive Excellence and Equity Initiatives at the University of North Carolina Adams School of Dentistry. Dr. Frazier-Bowers' goal entering her position was to be an advocate working to change the mindsets of stakeholders when it comes to equity. Her goal was to teach people to be conscious of inclusivity and equity, which is now being incorporated into the Adams School of Dentistry's curriculum.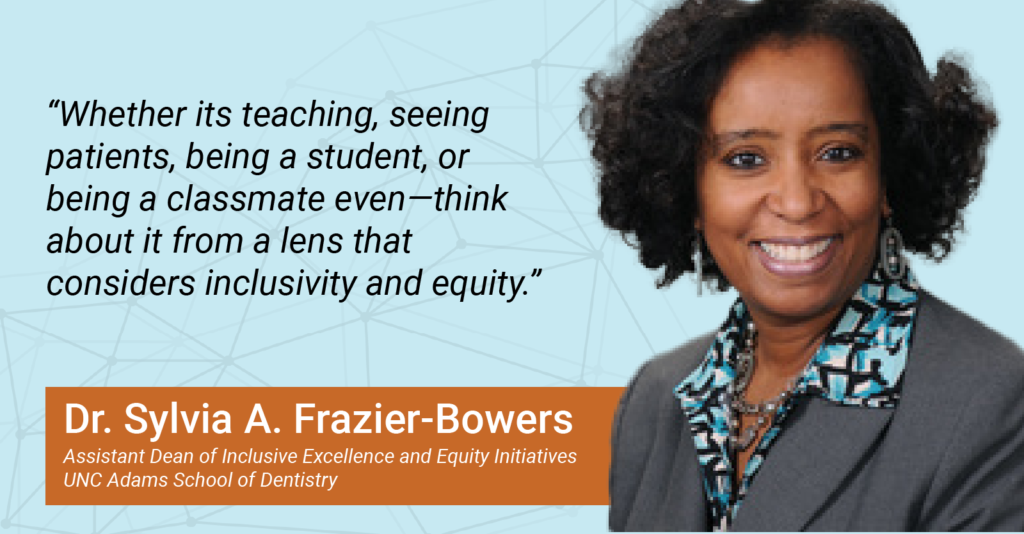 "Equity refers to fairness," said Dr. Frazier-Bowers, speaking about the importance of the word equity in health care and how it differs from the word "equality."
While equality means treating everyone the same, or providing the same inputs into a system, equity means providing everyone with the resources and assistance they need to achieve successful outcomes. Equal treatment is important, but in a world where we are all different, with different experiences, abilities, disabilities, and resources available for our use, we inherently need different things in order to be successful. When all stakeholders have the opportunity to be successful, everyone benefits.
It is no secret that historically, people in the United States have been discriminated against because of race. While we have undoubtably made huge strides toward a more just society, the impact of historical injustice lives on, and there are still structures and individuals today who perpetuate inequity along racial lines.
For a non-oral health example of system-level equity with important ties to the dental world, see NCOHC's interview with Duke Wold Food Policy Center Director of Strategic Initiatives Jen Zuckerman.
Dr. Frazier-Bowers explained that if two groups are given the same amount of a given resource, one may still be at a disadvantage if they started out further behind. When it comes to health care, equity may actually mean giving some people more help just to overcome existing disparities.
The Adams School of Dentistry curriculum is currently being revised, and the Office of Inclusive Excellence and Equity Initiatives is working to incorporate equity education into the dental school's coursework.
"Instead of having an insular experience of, 'Okay everyone, we're now going to learn about equity and justice,'" said Dr. Frazier-Bowers, "It's going to be integrated more seamlessly throughout the four-year curriculum."
Working with experts in equity and justice education, the school designed the Advocate, Clinician, and Thinker (ACT) framework to integrate knowledge of racial equity throughout the four years of schooling, rather than as a small section.
To further incorporate equity education into the student experience, the Adams School of Dentistry was the first to coin an Inclusive Excellence Week, offering weeklong experiences to promote equity. Working with a community of scholars from different disciplines, the Adams School of Dentistry is able to communicate regularly with content experts who can influence new ideas and portray the interconnectedness of their work. The Adams School of Dentistry's Inclusive Excellence Week influenced dental schools at other universities to do the same.
According to Dr. Frazier-Bowers, when it comes to equity and inclusion, "Mindset is the key."
"When I say the mindset, this refers to every time you engage in any activity," said Dr. Frazier-Bowers. "Whether its teaching, seeing patients, being a student, or being a classmate even—think about it from a lens that considers inclusivity and equity."
When asked about the most prevalent social injustices in dentistry, Dr. Frazier-Bowers explained how the fact that not everyone has access to reliable care is an issue. Unlike a second home or expensive car, "education and health care should not be considered luxuries," she said.
For that reason, the Adams School of Dentistry is currently working on self-assessment and accountability measures where people can have an opportunity to reflect and search for improvement in the pursuit of equity.
"People must be willing to open their minds to truth and history," said Dr. Frazier-Bowers.
Many oral health professionals already advocate for change and understand what needs to be done to create a lasting impact. For those who don't, there are always ways to get involved, but you have to be willing to put in the work. The DOCSpeaks program was created by Frazier-Bowers to bridge the "knowing-doing" gap for well-meaning professionals.
According to Dr. Frazier-Bowers, it all starts with education and an open mindset. The UNC DOCSpeaks sessions are a resource that can serve as a good starting point, and they will soon be open to the public. Outside of the education system, any community with the right leaders and the right mindset can be a catalyst for racial equity.
Want to get involved and elevate your voice? From diversity and inclusion in health care to the rising cost of health care, NC4Change is a platform for a diverse, inclusive group of oral health practitioners, public health professionals, community members, and other stakeholders who share a common goal: increasing equity and access in oral health care.
Head over to the brand new NC4Change page today and sign up for a focus group, give us feedback on our policy brief, and more!