WNC Steering Committee
NCOHC's Western North Carolina Steering Committee, formerly the WNC Children's Oral Health Initiative, works to improve the oral health of children in Western North Carolina. The steering committee includes oral health and medical providers, community partners, and other stakeholders.
Strategic Focus
Increase health care integration by facilitating collaboration among dental, medical, and public health providers, encouraging preventive care and a dental home for all children on Medicaid.
Expand access to oral health care for rural children, children in communities of color, and children living in poverty.
Enhance oral health literacy for families, policymakers, and providers.
And much more.
View NCOHC's full WNC Children's Oral Health & Services Strategic Plan here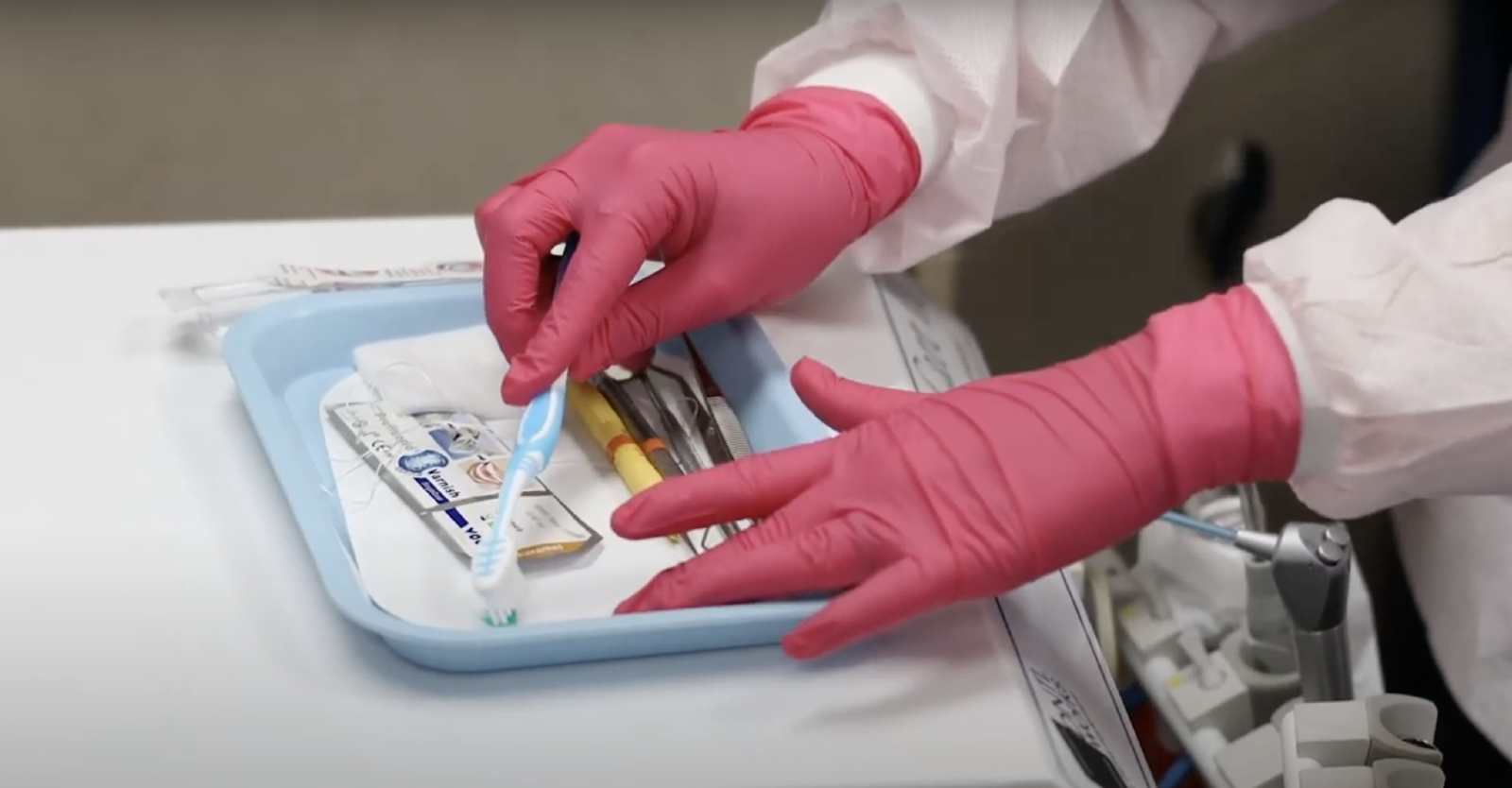 The Facts About Children's Oral Health in WNC
Only 41.8 percent of third graders in WNC are free from tooth decay, compared to 54.5 percent across North Carolina (NC Oral Health Section, 2020)
42.5 percent of Medicaid-eligible children aged 1-2 years in WNC received preventive oral health care, compared to 51 percent statewide (NC Oral Health Section, 2020)
There is a maldistribution of dentists in WNC. On average there are only 3.65 dentists per 10,000 people, less than the North Carolina average of 5 dentists per 10,000 people (UNC Shep Center).
Why Do Fewer WNC Children Have Access to Care?
People experience barriers to accessing oral health care at three stages. Many see barriers that prevent them from even seeking care in the first place. Once an individual has sought out care, there are still more barriers, preventing them from reaching and receiving the services they need.
Key barriers to seeking care include dental anxiety, oral health literacy, parents' oral health and stigma, lack of coordination between physicians and dentists, and misinformation about the recommended age of first dental visit.
Key barriers to reaching care include structural realities of poverty, cost of care, transportation, distance to care, lack of dentists in rural areas, few providers who accept Medicaid or Health Choice, few providers who serve infants and toddlers, and scarcity of hospital-based services and specialty care.
Key barries to receiving care include negative dental office experience related to race, ethnicity, income, and insurance status; physician challenges incorporating oral health care; limited data on best practices; limited care that leaves children without a dental home; lack of comprehensive services; and language barriers.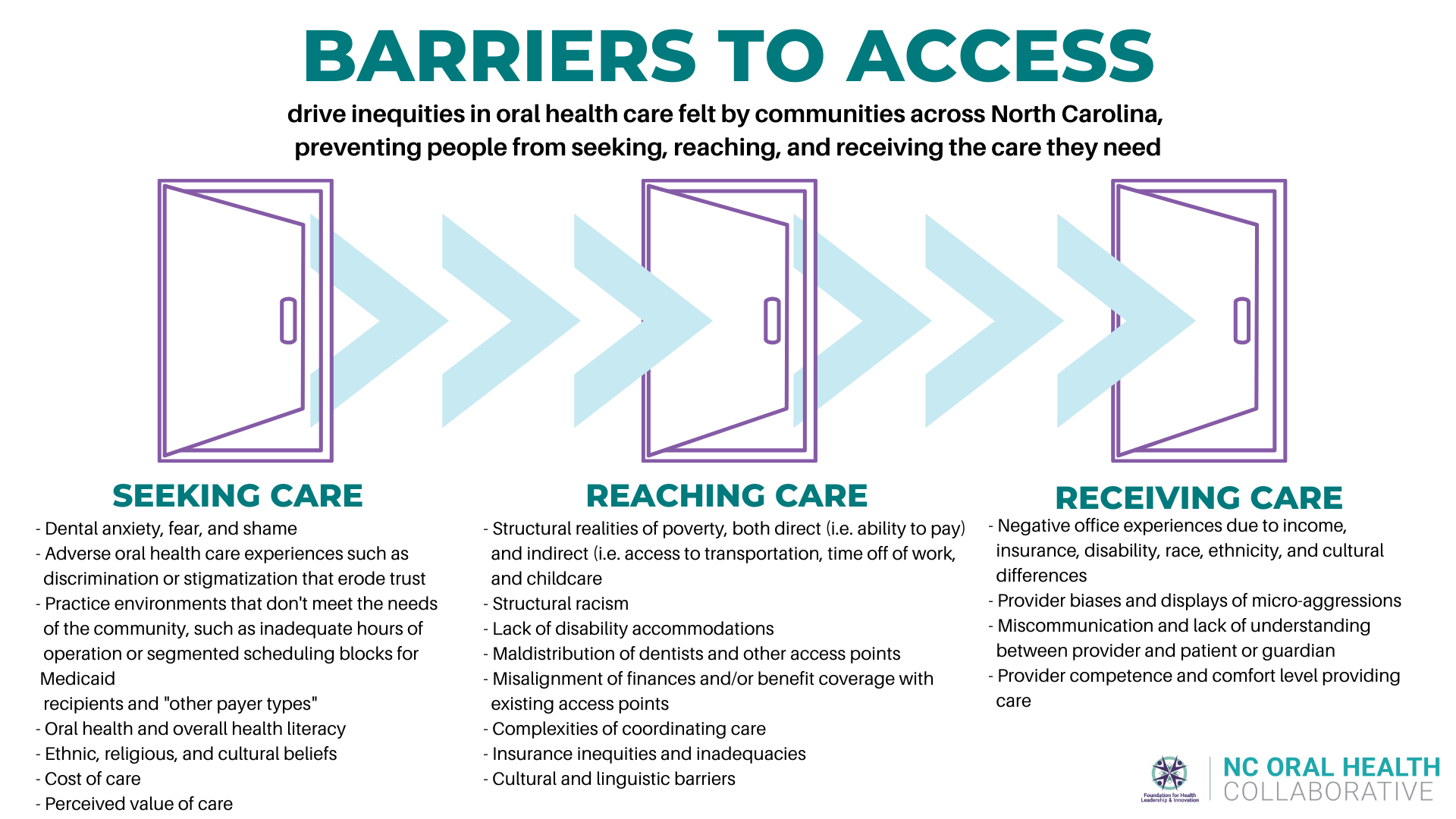 Meet the Steering Committee
Tish Ballance, DDS
Dr. Tish Ballance was born and raised in Waynesville North Carolina. and is a 1982 graduate of Tuscola Senior High School. She attended the University of North Carolina at Chapel Hill and graduated with a Bachelor of Science in Dental Hygiene with academic honors in 1992 and a Doctor of Dental Surgery in 1995. While attending dental school, she was chosen to be a member of the 1991 UNC Dental Mexico Project, providing dental care to underserved children in Mexico. Dr. Ballance is a member of the American Dental Association, American Academy of Pediatric Dentistry, Southeastern Society of Pediatric Dentistry, American Association of Women Dentists, and NC Dental Society, and she is a Lifetime Member of the North Carolina General Alumni Association.
Erin Braasch, MPH, RN
Erin Braasch is the executive director of the WNC Health Network, an alliance of hospitals working to create healthy and thriving communities in western North Carolina. Erin earned her MPH at the UNC Gillings School of Public Health, and she received her BSN from Southern Illinois University, Edwardsville, in 1993.
Mellie Burns, RDH
Eastern Band of Cherokee Indians Department of Public Health and Human Services
William Chambers, DDS
Dr. William L. Chambers has been a pediatric dentist for over 37 years. He attended the University of North Carolina School of Dentistry at Chapel Hill where he received his Doctor of Dental Surgery degree. In addition, he completed his degree in pediatric dentistry, along with a Master of Science, from the University of North Carolina. Dr. Chambers has excelled in his specialty and is a Board-Certified Pediatric Dentist. He also has in depth training and experience in dental growth and development and interceptive orthodontics.
Dr. Chambers is a member of such organizations as the American Dental Association, American Academy of Pediatric Dentistry, Southeastern Society of Pediatric Dentistry and the North Carolina Association of Pediatric Dentistry. A dedicated professional, 'Dr. Bill' strives to provide all of his patients with the most comprehensive and advanced pediatric dental care available.
Benjamin Cozart, DDS
Dr. Benjamin Cozart is the dental director at Blue Ridge Health, an FQHC in Hendersonville, NC. He is committed to improving the lives of western North Carolinians by improving quality and access to dental care. This includes improving existing models of care, but also exploring innovative approaches to dental care. Since becoming dental director at Blue Ridge, Dr. Cozart has overseen significant expansion of the department. Under his leadership, the dental department has expanded from three locations to four, implemented dental quality and productivity metrics, launched a mobile dentistry program and a school-based program.
Dr. Cozart was born and raised in Brevard, NC and after earning his bachelor's and dental degree at UNC-Chapel Hill, he eagerly returned to western North Carolina to practice. He lives in South Asheville with his wife, Lizzie, and their two young kids.
Phyllis Davis, RDH
Phyllis Davis grew up in WNC, attended Asheville-Buncombe Technical College for her degree in dental hygiene. After spending 7 years in private practice, and 1 year working for the Department of Corrections, she was fortunate to become part of the NC Oral Health Section. She found her niche in public health and after 33 years is still passionate about working with various partners to find ways to improve the oral health of community members.
Currently, she serves on the Board of the Partnership for Children of the Foothills, the Rutherford County Preschool Health Services Advisory Committee, McDowell School Health Advisory Committee, and the Polk County Health Service Advisory Committee for the Head Start Program.
Nicole Groves, MD, FAAP
Board-certified in pediatrics, Dr. Groves has been providing direct patient care to children and teens since 2002. As of 2011, she has been providing pediatric care to the children & families of Western North Carolina in a variety of roles & locations. A former Ambulatory Medical Director at Mission Children's Specialty Clinic, she currently serves as a general pediatrician at AdventHealth Medical Group in Hendersonville, NC.
Dr. Groves earned her bachelor's degree in biology from Macalester College in Saint Paul, MN. She earned her medical degree and completed her pediatric residency training program at the University of Minnesota in Minneapolis. Over her career, she has pursued advanced education in healthcare quality improvement and patient safety. Dr. Groves is an adjunct assistant professor at the University of North Carolina School of Medicine Department of Pediatrics. She is also an active member of the American Academy of Pediatrics and the North Carolina Pediatric Society.
Katherine Jowers, DDS
Dr. Katherine Jowers is the department chair at the MAHEC Dental Health Center in Asheville, NC, and assistant professor at the UNC Adams School of Dentistry. A graduate of the UNC Adams School of Dentistry, Dr. Jowers completed a two-year GPR/oral medicine residency at the Carolinas Medical Center before accepting a fellowship with the American Association of Hospital Dentists in Chicago.
Dr. Jowers' first position was with Mission Hospital in Asheville, North Carolina, where she helped build the Mission Hospital Children's Dental Practice to serve Western North Carolina youth. She gave presentations about the hospital dental practice during the United States Surgeon General's 2000 conference, and she continued to build that program for 21 years.
Dr. Jowers was also an assistant professor with the ECU School of Dental Medicine and assistant director of one of ECU's learning centers before being recruited for her current position.
Christine Malloy, BS, MA, MHA
Founding Member
Christine Malloy, B.S, M.A is a seasoned leader will deep organizational and community building experience. She has a track record of leading strategic planning, innovation and development with key providers, caregivers, community, and regional leaders. Developing collaborations to build community consensus and advancing policies and practices that move the needle on critical needs brings the most joy. She has championed issues in public education, violence prevention, public safety, early childhood education, housing, poverty, equity, mental, physical, and oral health. She has over 20 years of experience, implementing best practices, fundraising for nonprofit organizations, legislative and stakeholder advocacy.
Robert Manga, DMD
Dr. Robert Manga is the Faculty Director of the ECU Community Service Learning Center in Sylva, North Carolina, and a Clinical Assistant Professor at the ECU Department of General Dentistry.
Bridgett Masters
Bridgett Masters is a practice supervisor for children's dental at Mission Children's Hospital.
Susan Mims, MD, MPH
Founding Member
Dr. Susan Mims is the former chair of the Department of Community and Public Health at UNC Health Sciences at MAHEC.
Prior to joining MAHEC, Dr. Mims was the Vice President for Children's Services at Mission Hospital in Asheville, NC and Executive Medical Director for Mission Children's Hospital.
Before joining Mission, Dr. Mims served as Medical Director at the Buncombe County Health Department where she oversaw clinical services in the county's largest indigent care clinic and school-based health centers and led many quality improvement projects, including integrating behavioral health into medical care.
Paige Nance, DDS
Paige Nance, DDS, joined the Oral Health section in June 2020. Dr. Nance is a graduate of the University of North Carolina School of Dentistry in Chapel Hill. After dental school, she joined the United States Air Force completing an Advanced Education in General Dentistry residency. Dr. Nance is a Distinguished Graduate of military training school and has received the USAF Commendation Medal in support of Operation Iraqi Freedom/Operation Enduring Freedom. She has worked in private practice with underserved patients and recently worked with Mission Hospital, Asheville in the safety net operating room and tooth bus outreach programs. She understands the importance of addressing social determinants of health to achieve health equity. It is important to reframe the message that poor health is not entirely the fault of individuals. Responsibility for health should be a collaborative effort between people and the societies in which they live. When not at work, she enjoys the outdoors, spending time with her 2 cats and Shepapoodle or watching a good documentary.
Stephanie Sabatini, DDS, MPH
Dr. Sabatini graduated from the UNC Adams School of Dentistry and completed a one year general practice residency at The University of Mississippi Medical Center in Jackson, MS. For the majority of her career Dr. Sabatini has worked with the Mission Hospital Children's Dental Practice based in Asheville, NC . The focus of the practice has been to provide dental rehabilitative care to underserved children, medically complex/special needs children and adults from western NC, both in the operating room and on mobile dental units. During these years she helped to establish and expand the OR dental practice and even contribute to the design of the mobile units. In 2003 Dr. Sabatini earned a Master of Public Health degree from the UNC Gillings School of Global Public Health.
Miriam Schwarz, MPA
Steven Dean Stacy, DDS
Dr. Steven Dean Stacy is a clinical assistant professor at the ECU School of Dental Medicine and faculty director of the ECU Community Service Learning Center in Spruce Pine, North Carolina.
Amadeo Valdez, DDS, MAS
Dr. J. Amadeo Valdez is the General Practice Residency Program Director at Mountain Area Health Education Center. A native from Coahuila, Mexico, he completed his dental degree at the Universidad Autonoma de Nuevo Leon. After receiving his master's degree in Clinical Research at the University of California San Francisco, he completed a general practice residency and oral medicine specialty program at Carolinas Medical Center in Charlotte, North Carolina. His clinical focus and research interests are access to dental care, treatment for oral lesions, salivary gland disorders, facial pain, and dental treatment for medically complex patients, including those undergoing cancer therapy.