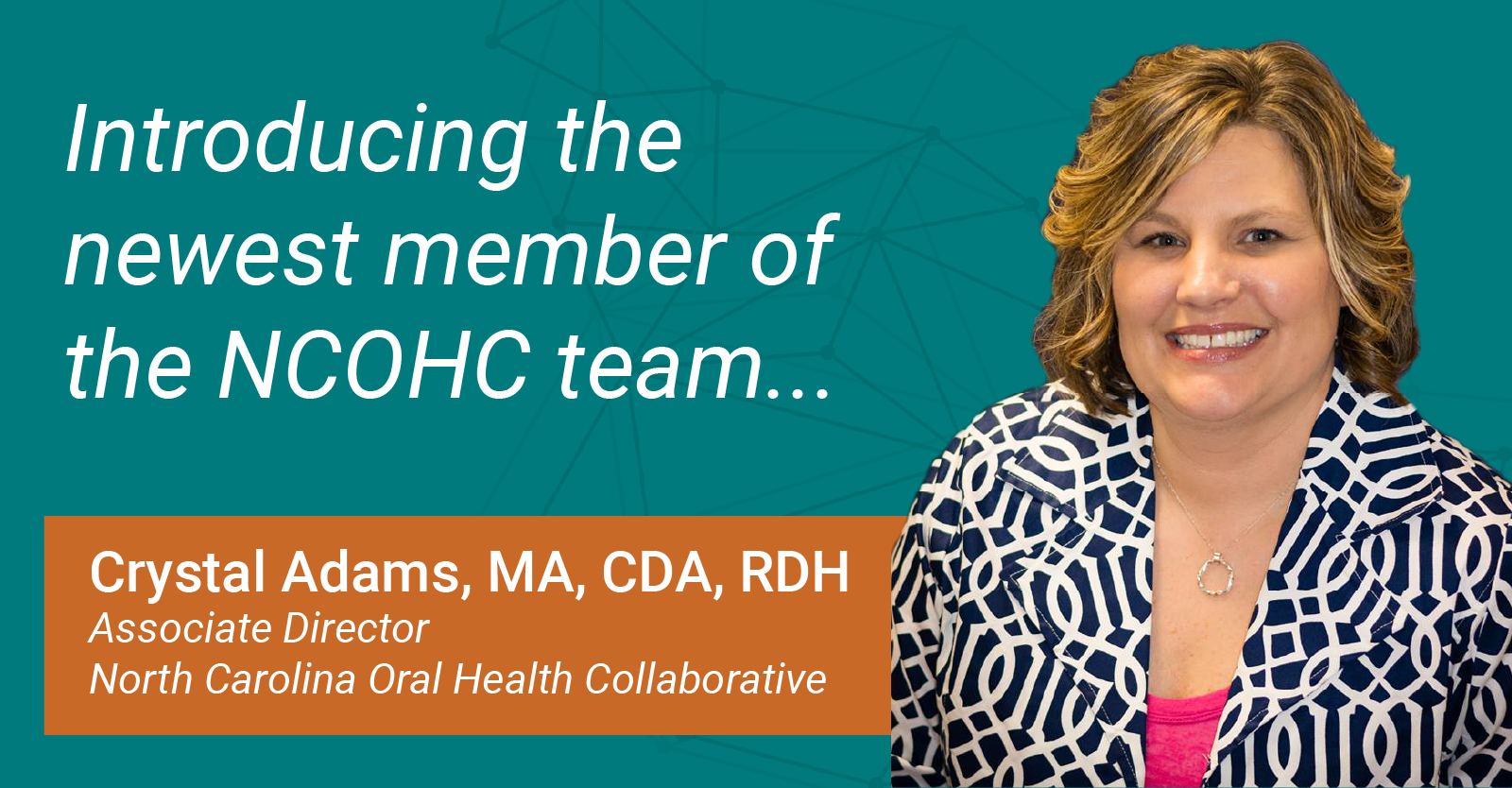 We are thrilled to introduce the newest member of the NCOHC team! Crystal Adams, a lifelong advocate for access and equity in oral health care, will join us as our Associate Director.
Crystal is a career educator, transitioning to NCOHC from her position as department head of Catawba Valley Community College's (CVCC) dental hygiene program. Over the course of her career at CVCC, Crystal launched a dental assisting program, a Community Dental Health Coordinator program, and a school-based program allowing dental hygiene students to care for middle school-aged children in Alexander County.
Crystal brings with her a wealth of knowledge and experience in education, paired with years of statewide advocacy and representation on committees like the North Carolina Dental Society Council on Prevention and Oral Health. She is also the former president of the North Carolina Dental Hygienists' Association (NCDHA).
We recently sat down with Crystal to talk about her career and experience in oral health, and her vision for increasing access and equity in North Carolina.
Can you tell us a bit about your career path in the dental field?
I started in dentistry as a dental assistant. My passion kept getting stronger and stronger, and I felt like I wanted to grow, so I went back to dental hygiene school. After working as a dental assistant for four years and a hygienist for almost ten years, I felt like there was something inside of me that I could share.
I love people — I love helping people. I started working in education to share my passion about oral health care. I wanted to help new graduates prepare for the dental field, and I felt like my experience as a dental assistant and a dental hygienist allowed me to go in and share my technical skills, as well as my personal knowledge working with patients.
I feel like everything begins with education, no matter what. And, with NCOHC, I am excited to work on initiatives and programs to ensure that dental literacy is continued, to help people see that they need that overall health, and that their teeth are part of their bodies!
Why did you choose a career in dentistry in the first place?
I always knew that I wanted to go into the health field. I did not have any dental care until I was 16 years old. Luckily, my family had great genes, so I was one of those lucky people who didn't have a lot of dental issues.
Now, when I look back, I see that my personal story can help people. Especially when people come in and say, "Oh my gosh, I haven't been to the dentist. I focused on my family, I focused on my children, and now I'm here and my mouth is a mess." I have that personal story to share.
What is your vision for North Carolina's oral health future?
I was born and raised in North Carolina, and I want to see my neighbors, my friends, my family throughout the state get the care that they need. My vision starts with a quality workforce. First, making sure that our stakeholders and partners are on board so that we're all working toward the same goal. Everybody's goal in dentistry is hopefully to help our residents in North Carolina to improve their oral health.
I envision collaboration with our stakeholders to ensure that we have a quality workforce delivering equitable oral health care to the residents of North Carolina. Working on the programs that I did at CVCC, I feel like a lot ties into the initiatives, vision, and mission of the North Carolina Oral Health Collaborative.
NCOHC, a program of the Foundation for Health Leadership & Innovation, works to advance systems-level changes, improving the overall health and well-being of all North Carolinians by increasing access and equity in care. To stay up-to-date and get involved, join us today as a North Carolinian for Change.