On February 24, 2021, Senator Jim Perry and Representative Donny Lambeth filed legislation in the North Carolina House and Senate to formalize the practice of teledentistry and allow dental hygienists to administer local anesthesia.
For the purpose of this blog post, we will refer to the legislation as SB 146. The Senate and House bills were identical when filed, a common practice in the legislature.
SB 146 represents two important steps toward a future where all North Carolinians can access quality, affordable oral health care. Here's what you need to know about the legislation and its path forward.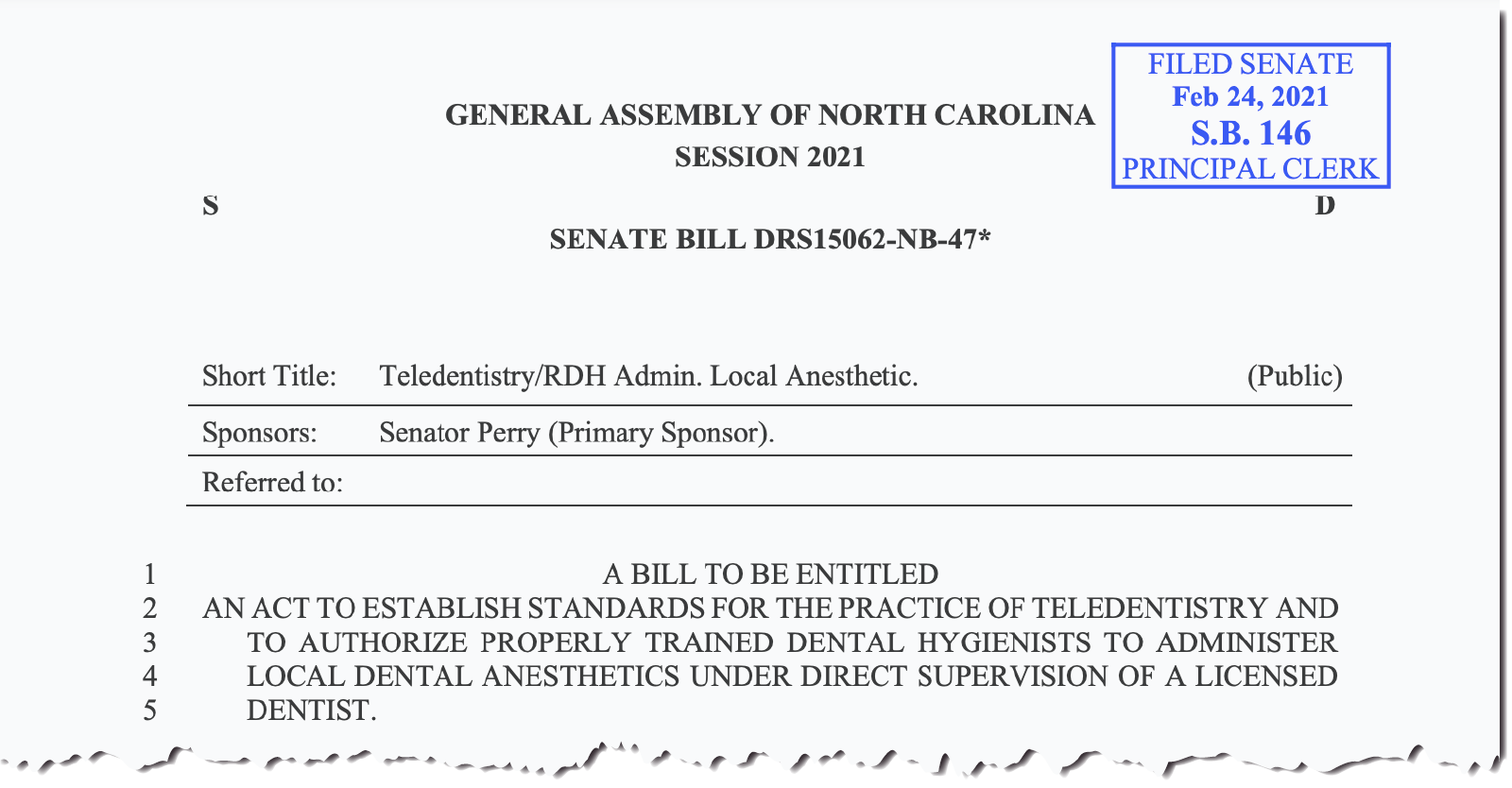 What's in SB 146?
If passed into law, SB 146 would do two important things. First, it would formally define teledentistry in North Carolina's Dental Practice Act, setting forth patient protections and allowing for patient evaluations to be conducted via remote modalities.
Prior to the COVID-19 pandemic, the NC Department of Health Benefits (Medicaid) reimbursed for synchronous teledental services, but not for asynchronous. However, as a part of their COVID-19 relief provisions, Medicaid added asynchronous reimbursement as a way for providers to further connect with the patients they serve. We believe this legislation will help signal to payers, both public and private alike, that teldentistry's role in the future of oral health care delivery is both safe and effective.
Teledentistry has been, and will continue to be, an important tool in helping providers reach patients who wouldn't traditionally have access to care. It can connect dental care teams in non-traditional dental settings, such as schools and long-term care facilities. Teledentistry can also expand service options in rural North Carolina — where providers are more scarce. All in all, teledentistry makes it more feasible for providers to improve access and equity in care.
Second, SB 146 would allow properly trained dental hygienists to administer local anesthesia. This clinical responsibility — which has already been authorized and delegated to hygienists in 44 other states and Washington D.C. — can help practices increase efficiency, reduce costs, and care for more patients.
North Carolina has historically been one of the more restrictive states in terms of the clinical procedures dental hygienists are permitted to perform. Fortunately, recent regulatory reforms such as the change to Rule 21 NCAC 16W .0104 have begun the process of updating the delegation of duties in the dental office. SB 146 represents an important next step, and we commend and thank Senator Perry, Representative Lambeth, and the stakeholders including the North Carolina Dental Society who worked to make this happen.
Where is the bill in its path toward becoming law?
As of March 17, both bills (SB 146 and corresponding HB 144) have moved through one committee in their respective chambers.
On the House side, HB 144 was referred to the committees on Health, Insurance, and Rules. This means that the Health Committee, Insurance Committee, and Rules Committee all must vote on the bill before it will be voted on by the entire House of Representatives.
On March 9, 2021, the Health Committee approved of the legislation with minor technical changes, passing it on to the Insurance Committee.
On the Senate side, SB 146 was referred to the committees on Health Care, Commerce and Insurance, and Rules. This means that the Health Care Committee, Commerce and Insurance, and Rules Committee all must vote on the bill before it will be voted on by the entire Senate.
As of March 17, 2021, the Health Care Committee approved of the legislation, inclusive of the minor technical changes that were first introduced to HB 144, and it now will move onto the Committee of Commerce and Insurance.
Whichever version of the legislation reaches a vote of its respective full chamber first will cross over for a vote in the alternate chamber. In other words, if the House bill is approved by the Insurance and Rules committees, and the full House of Representatives votes in favor of the bill, then the Senate will need to vote in favor, as well, or vice versa.
If both chambers vote "yes" on either version of the bill, then the legislation will be sent to Governor Cooper to be signed into law.
The steps between the proposal of legislation and the legislation becoming law can be complicated, but we will break down the process every step of the way. Stay up to date on the movement of SB 146 and HB 144 by signing up for NCOHC News today!